Hawaii Family Therapist


Counselor: Steve Katz MFT
808-220-3625
There are times in our lives when it is helpful to have someone who is trained to listen, and listen well; to have someone who will really hear you, and will help you find what it is that will bring greater peace and joy into your life.
Steven Katz, MFT, MSCP, is licensed by the State of Hawaii as a Marriage and Family Therapist and holds a Master's Degree in Counseling Psychology with an Emphasis in Marriage and Family Therapy.
He is currently accepting new patients at his offices in Kailua.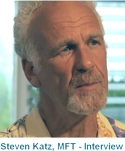 Click to see a video interview with Steve.
Copyright 2015 - Steven Katz, MFT - All Rights Reserved